井桁 裕子

HIROKO
IGETA
自然の形態と人のまなざし

生物の形はどのように成り立ってきたのか。その形態は遠い宇宙のリズムと響き合っている。
井桁裕子は「人形」による表現を模索する中で、大気や水の流れのような「自然のうねりと共鳴する生命」という造形の主題に出会った。
近年の陶土による作品群では、人のあるべき生き方への祈りを込めた「ひとがた」の存在感と、躍動する自然の流体を思わせる造形とを、ときに融合させながら追求している。

Natural Form and Human gaze

How have the forms of living things been formed?
A figure blends the rhythm of the distant universe.
In groping of expressions of "Doll", Yuko Igeta caught the figurative subject on "A Raging Wave of Nature and Sympathetic Life", such as a circulation of air and water. In recent works made of potter's clay, she grows together at times and pursues a sense of existence of "Human Shape" offering prayers for the ideal way of human living, and a configuration coming across a strong physical body of fluid.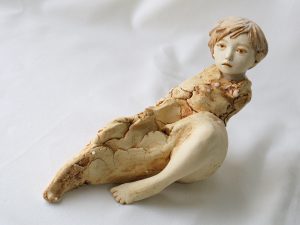 略 歴
1967年、東京に生まれる。
1990年、武蔵野美術大学視覚伝達デザイン学科卒業。
大学卒業後、デザイン会社に勤務するかたわら球体関節人形を制作、グループ展などで発表する。
1996年、自分の身体を正しく把握できないことで社会生活が困難に瀕したことから、「セルフポートレートドール」という自分をモデルにした120cmほどの球体関節人形を制作。その後、試行錯誤を経て、自分の出会った表現者たちをモデルにして制作する事がライフワークとなった。
その後デザイン会社を退職、イラストレーターとして独立する一方で、人形制作の活動を本格的に開始する。
2005年、和紙による張り子や桐塑などの、丈夫で環境負荷の少ない素材での制作を学ぶため四谷シモン人形学校に入学。この頃に「舞踏」と出会い、球体関節人形のスタイルを越えた造形を求め始める。一方で、陶芸による表現も模索し、小さなサイズの造形に取り組んでいる。近年は風や雲、波などの流体と同化した人物像を多く制作している。人の知性と社会の向かうべき方向、生きることの静かな喜びと孤独、困難に向き合う姿勢を作品の主なテーマとしている。

【個展】
1994 アートギャラリー せ・らーる
1997 アートスペース・コア
2000 アートギャラリー せ・らーる
2003 GALLERY ES
2007 オルタナティブスペース RAFT
   昔人形青山/K1ドヲル
2010/12/15 ギャラリー ときの忘れもの
2016 ヒロシマ平和映画祭主催
2019 ストライプハウスギャラリー

【グループ展】
2004 「球体関節人形展・dolls of INNOCENSE」東京都現代美術館
2006 「舞踏+人形 Double-ドゥーブル」舞踏公演 ストライプハウスギャラリー
2007 「人・形展」丸善・丸の内本店オアゾ (2017年を除き毎年参加)
2008 World Dolls モスクワ
2010 「奈良国際彫刻展」平城遷都1300年記念事業 旧大乗院庭園文化館
   「ART OSAKA (ときの忘れもの)」堂島ホテル
   「Simon Yotsuya and friends or Bellmer in Japan」ポーランド/カトヴィツェ
2011 「アートフェア京都 (ときの忘れもの)」ホテルモントレ京都
2012 「ART KYOTO 2012(ときの忘れもの)」国立京都国際会館
   「『魔淫の迷宮』刊行記念展」神保町画廊
2013 「Dolls Collection 時をかける等身大人形-細工人形・菊人形からマネキン・フィギュア・ロボットまで-」高浜市やきものの里かわら美術館
2016 「Action展 Vol.02」大分県立美術館
2017 「第6回心のアート展」池袋芸術劇場
   「月夜のからくりサーカス」品川プリンスホテル・クラブeX(ステージパフォーマンスへの作品協力)
2018 「冬のエコール・ド・シモン展」
   「絵と人形 春」丸善・丸の内本店オアゾ
   「喰丸小 芸術祭 人形展」 旧喰丸小学校
   「第7回にんぎょう うらら展」吉徳本店
2019 「絵と人形 春」丸善・丸の内本店オアゾ
   唐組・第63回公演「ジャガーの眼」(マスク制作で参加)
   第4回それからの人形たち展
   メメントC公演 女人往生環2「韋提希」(人形制作で参加)
   「第8回にんぎょう うらら展」吉徳本店
Biography
In 1967, she was born in Tokyo.
In 1990, she graduated from Musashino Art University Visual Communication Design. After that, she worked for a design company while producing BJD and presented them at group and other exhibitions.
In 1996, she created a BJD about 120cm, modeled on herself, called a "Self-portrait Doll". The reason was that she couldn't grasp her body properly, which made her social life difficult. Then, through trial and error, she became a life work to make the dolls using the artists who met her as models.
In the aftermath, she retired from the design company and became independent as an illustrator, while she began earnestly the doll production activity.
In 2005, she enrolled in Yotsuya Simon Doll School to learn to use tough and environmentally-friendly materials such as papier-mache and paulownia wood. During this time, she encountered "Terpsichorean art" and began to seek a style that goes beyond the sphere of BJDs, while also exploring ceramic expressions and works on small-sized forms. In recent years, she has produced many sculptures of portrait assimilated with fluids such as wind, clouds, and waves. The main themes of her work are human intelligence and the direction of society, the quiet joy and loneliness of living, and the attitude of facing difficulties.

【Solo Exhibition】
1994 Art Gallery C'est l'art
1997 Art Space Core
2000 Art Gallery C'est l'art
2003 GALLERY ES
2007 Alternative Space RAFT
  Old doll Aoyama / K1Doworu
2010/12/15 Gallery Toki-no-Wasuremono
2016 Hosted by Hiroshima Peace Film Festival
2019 Stripe House Gallery

【Group Exhibition】
2004 BJD Exhibition "dolls of INNOCENSE" in Museum of Contemporary Art Tokyo
2006 "Dance+Doll Double" Dance performance at Stripe House Gallery
2007 "Human, Doll Exhibition" at Maruzen (participate every year except 2017)
2008 "World Dolls" in Moscow
2010 "Nara International Sculpture Exhibition" 1300 Commemorative Project of Heijo Recapital at Former Ojiriin Garden Culture Museum
  "ART OSAKA (Toki-no-Wasuremono)" at Dojima Hotel
  "Simon Yotsuya and friends or Bellmer in Japan" in Katowice, Poland
2011 "Art Fair Kyoto 2012 (Toki-no-Wasuremono)" at Hotel Monterey Kyoto
2012 "ART KYOTO 2012 (Toki-no-Wasuremono)" at National Kyoto International House
  "The Labyrinth of Devil - Commemorative Exhibition" at Jimbocho Gallery in Tokyo
2013 "Dolls Collection Life-size adult forms that take time - from crafted dolls and chrysanthemum dolls to mannequins, figures and robots -" at Takahama City Ceramics Museum
2016 "Action Exhibition vol.2" at Oita Prefectural Museum of Art
2017 "The 6th Mind Art Exhibition" at Ikebukuro Arts Theater
  "Moonlit Karakuri Circus" at Shinagawa Prince Hotel Club eX (Work cooperation for stage performance)
2018 "Winter Ecole de Simon Exhibition"
  "Pictures and Dolls in Spring" at Maruzen
  "Kumaru Small Art Festival Doll Exhibition"at Former Karuma Elementary School
2019 "Pictures and Dolls in Spring" at Maruzen
  Karagumi - the 63rd performance "Eyes of Jaguar" (Participate in mask production)
  "The 4th Dolls after that Exhibition"
  Memento C Performance - Woman Ring 2 "Wei Riki" (Participate in doll production)
  "The 8th Dolls Urara Exhibition" at Yoshitoku
作品ご購入ご希望の方は以下、ご連絡いただきますようお願いします。
また、実際に作品をご覧になりたい方は、作品により画廊にてご覧いただくこともできます。 ご希望の際は事前に御連絡ください。
問い合わせ先 (担当:吉村 義彦)
Mail : yy.artpoint★gmail.com(★は@に置き換えてください)
Tel : 03-6228-6839
Please contact us if you are interested in purchasing artworks.
In the case that you'd like to see actual artworks at the gallery, please contact us in advance.
Contact : Yoshihiko Yoshimura
Mail : yy.artpoint★gmail.com(Please change ★ to @)
Tel : 03-6228-6839