杉本 遊美

AMI
SUGIMOTO
社会的価値観に調和する次代のアートの在り方と、新たな表現手法を追求
杉本の作品のテーマは、鑑賞者が社会問題を考えるきっかけとなる問いの発信である。
動物倫理学の観点で動物の生死を感じでもらいたいと制作したMeatシリーズや、咽頭胚期から着想して生物の命を利用することを表したバンノウヤクシリーズなどを制作してきた。素材にはキャンバスのほかビニールや、プラスチックなどをジャンルレスに使用している。
その表現手法は、京都市立芸術大学の日本画専攻の在籍当時、日本の絵画の歴史は案外素材の自由度が高いことに着目し、これまで日本の絵画の制作の中であまり使われてこなかった樹脂やビニールなどの工業的な材料を一部に取り入れ制作を始める。また、キャンバスとなる和紙自体を折り曲げた作品を制作するなど、日本画の素材の中でも、平面表現に留まらない新たな表現方法も模索していた。
現在は、鑑賞者に問いを届ける最適な表現手法を、日本画の枠を超えてインスタレーションアートやコンテンポラリーアートの要素を取り入れながら模索している。コンセプトだけではなくアートとしても成立するようキャチーな見た目にも重点を置いており、気軽に鑑賞ができる。
Pursuing the next generation of art in harmony with social values and new methods of expression
The theme of Sugimoto's works is the transmission of questions that trigger viewers to think about social issues.
She has produced the Meat series, which she created to have viewers feel the life and death of animals from the perspective of animal ethics, and the BANNOUYAKU series, which was inspired by the pharyngeal embryonic stage and represents the utilization of the lives of living creatures. In addition to canvas, she uses vinyl, plastic, and other materials in a genre-less manner.
This method of expression began when, as a student of Japanese painting at Kyoto City University of Arts, he noticed that the history of Japanese painting had a surprisingly high degree of freedom in terms of materials, and created works that partially incorporated industrial materials such as resin and vinyl, which had not been used much in the production of Japanese paintings until now. She also explored new methods of expression beyond the two-dimensional expression within the materials of Japanese painting, such as creating works in which the Japanese paper itself, which serves as the canvas, is folded.
Currently, She is searching for the optimal method of expression to deliver questions to the viewer, while incorporating elements of installation art and contemporary art beyond the framework of Japanese-style painting. She places emphasis not only on the concept but also on the catchy appearance of her works so that they can be viewed and appreciated casually.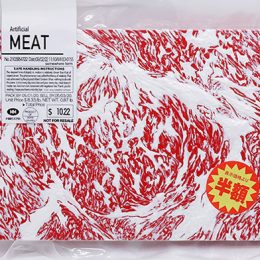 略 歴
2021
京都市立芸術大学美術学部美術科日本画専攻卒業
第1回ARTAOTA ルノー・ベルゴンゾ レヴュアー賞受賞
UNKNOWN ASIA 2021に出展
2022
神戸アートマルシェ2022 「Artist meets Art Fair」出展
第11回 DISCOVER THE ONE JAPANESE ART 2022準グランプリ
GEISAI#21に出展:東京ビックサイト
個展 " Self-determination" 開催:芝田町画廊
BIRTH:Art Born from Japanese Modern Culture 掲載.
2023
KCUAアートオークション「Hand On」出展
第28回 日本の美術 全国選抜作家展に出展:上野の森美術館
"BIRTH"発行記念展覧会出展:大阪イロリムギャラリー
Prism VII 2023に出展:GALLERY ART POINT
愛と狂気のマーケットに出展:ラフォーレ原宿(東京都渋谷区)
Biography
2021
Graduated from Kyoto City University of Arts, Major in Japanese Painting
Awarded the 1st ARTAOTA Renaud Bergonzo Reviewer Prize
Exhibit at UNKNOWN ASIA 2021
Exhibit at Kobe Art Marché 2022 "Artist meets Art Fair
The 11th DISCOVER THE ONE JAPANESE ART 2022 Second Prize
2022
Exhibited at GEISAI#21 at Tokyo Big Sight
Solo exhibition "Self-determination" at Shibatacho Gallery
BIRTH:Art Born from Japanese Modern Culture Published:
KCUA Art Auction "Hand On"
2023
Exhibited at the 28th Art in Japan: The Ueno Royal Museum, Tokyo
Participated in the exhibition commemorating the publication of "BIRTH" at Irorim Gallery, Osaka
Exhibited at Prism VII 2023: GALLERY ART POINT
Exhibited at "Love and Madness Market" at Laforet Harajuku (Shibuya-ku, Tokyo)
作品ご購入ご希望の方は以下、ご連絡いただきますようお願いします。
また、実際に作品をご覧になりたい方は、作品により画廊にてご覧いただくこともできます。 ご希望の際は事前に御連絡ください。
問い合わせ先 (担当:吉村 義彦)
Mail : yy.artpoint★gmail.com(★は@に置き換えてください)
Tel : 03-6228-6839
Please contact us if you are interested in purchasing artworks.
In the case that you'd like to see actual artworks at the gallery, please contact us in advance.
Contact : Yoshihiko Yoshimura
Mail : yy.artpoint★gmail.com(Please change ★ to @)
Tel : 03-6228-6839