久世なつか

Natsuka
Kuze
自然と人をテーマに今を描く
久世なつかは伝統的な日本画材を用いながら現代社会の日常を描く。
まず目を引くのが、精密な観察眼に根ざした蝶などの昆虫描写だ。
古くから人々の身近に存在しながらも、都市生活の中で遠ざけられ、開発によってその姿を消しつつある小さな命。
種や動きが異なる個体をリアルに、複数描くことにより、目の前で羽ばたき飛んでいるような感覚へと誘う。
静止画でありながら動的な独自の作品世界は、見る人の想像力によって完成する。
また、久世が描くポートレートは、今時の女の子、女性である場合が多い。
実在する人物ではなく、様々な年齢、人種の顔、体のパーツを組み合わせ、イメージで描かれる。
ファッション誌に登場するような現代感覚を取り入れた服装にも着目したい。
これまで日本画で多く描かれてきた普遍的日本女性とは対照的な、今を生きる女性たち。
それはアクリル抽象画、デジタルイラストレーションなど様々な媒体をも扱う久世の色彩感覚が、 特に時代を反映しやすい女性像に表れているとも言える。
消えつつある自然生物と、人間社会で今を生きる女性たちという、一見すると重なり合うことのないモチーフ。
伝統技法による現代的な感覚の追求。これらのアンバランスな要素が一枚の絵の中で絶妙なバランスを保ちながら共存する。
相いれないものたちが共存する作品世界。それは、私たちの繁栄の影で沈みつつあるもの、自然を、永遠に絵画の中で生かし続ける試みでもある。
Drawing the present with the theme of nature and people
Natsuka Kuze uses traditional Japanese painting materials to depict everyday life in modern society.
The first thing that catches the eye is the depiction of insects such as butterflies, which is rooted in a precise eye for observation.
A small life that has existed close to people for a long time, but has been kept away from urban life and is disappearing due to development.
By realistically drawing multiple individuals with different species and movements, it invites you to feel as if you are flapping your wings in front of your eyes.
The unique dynamic world of her works, which are still images, is completed by the imagination of the viewer.
Also, many of Kuze's portraits are of contemporary girls and women.
She is not a real person, but an image that combines faces and body parts of various ages and races.
She also wants to pay attention to clothing that incorporates a modern sensibility that appears in fashion magazines.
In contrast to the universal Japanese women that have been depicted in many Japanese paintings, women living in the present.
Kuze's sense of color, which works in various media such as acrylic abstract paintings and digital illustrations, In particular, it can be said that it is reflected in the image of women who are easy to reflect the times.
At first glance, the motifs of disappearing natural creatures and women living in the present in human society do not overlap.
Pursuit of modern sensibility by traditional techniques. These unbalanced elements coexist in a single picture while maintaining an exquisite balance.
A work world where incompatible things coexist. It is also an attempt to keep nature, which is sinking in the shadow of our prosperity, alive forever in paintings.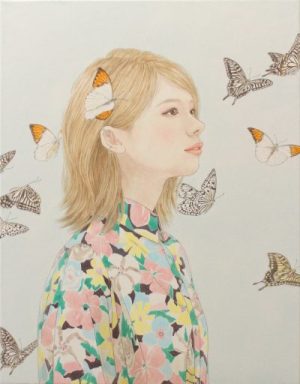 略 歴
2004年 東京藝術大学 美術学部 先端芸術表現科 卒業
【個展】
2014年 絵本「みさらしのあかり-五箇山和紙-」原画展(NHK富山放送局)
【グループ展】
2017年 シェル美術賞2017作品展 (国立新美術館/東京)
2019年 FACE2019 損保ジャパン日本興亜美術賞展(損保ジャパン日本興亜美術館/東京)
2021年 ACTアート大賞展 (アートコンプレックスセンター/東京)
2021年 DANCE,DANCE,DANCE and DANCE 展 (ジルダールギャラリー/愛知)
2022年 うたかたⅡ-泡沫- 展(GALLERY ART POINT/東京)
2023年  玉響Ⅰ-Fleeting Moment- 展(GALLERY ART POINT/東京)
【受賞・入選歴】
2001年 前橋アートコンペライブ2001 銅賞
2009年 第5回南砺市美術展 奨励賞 
2010年 アート・ナウKANAZAWA 第49回北陸中日美術展 入選
2017年 シェル美術賞2017 入選
2018年 FACE2019損保ジャパン日本興亜美術賞 入選
Biography
2004 Graduated from Tokyo University of the Arts, Faculty of Fine Arts
[Solo exhibition]
2014 Picture book "Misarashi no Akari - Gokayama Washi -" Original Art Exhibition (NHK Toyama Broadcasting Station)
[Group exhibition]
2017 Shell Art Award 2017 Exhibition (National Art Center, Tokyo)
2019 FACE2019 Sompo Japan Nipponkoa Art Award Exhibition (Sompo Japan Nipponkoa Museum of Art/Tokyo) 2021 ACT Art Grand Prize Exhibition (Art Complex Center/Tokyo)
2021 DANCE, DANCE, DANCE and DANCE Exhibition (Gildahl Gallery/Aichi)
2022 Utakata II -Foam- Exhibition (GALLERY ART POINT/Tokyo)
2023/Tamakyo I -Fleeting Moment- Exhibition (GALLERY ART POINT/Tokyo)
[Award/Selected History]
2001 Maebashi Art Competition Live 2001 Bronze Award
2009 5th Nanto City Art Exhibition Encouragement Award
2010 Selected for Art Now KANAZAWA 49th Hokuriku Chunichi Art Exhibition 2017 Shell Art Award 2017 Selected
2018 Selected for FACE 2019 Sompo Japan Nipponkoa Art Award
作品ご購入ご希望の方は以下、ご連絡いただきますようお願いします。
また、実際に作品をご覧になりたい方は、作品により画廊にてご覧いただくこともできます。 ご希望の際は事前に御連絡ください。
問い合わせ先 (担当:吉村 義彦)
Mail : yy.artpoint★gmail.com(★は@に置き換えてください)
Tel : 03-6228-6839
Please contact us if you are interested in purchasing artworks.
In the case that you'd like to see actual artworks at the gallery, please contact us in advance.
Contact : Yoshihiko Yoshimura
Mail : yy.artpoint★gmail.com(Please change ★ to @)
Tel : 03-6228-6839