菫(すみれ)


Sumire
土地の文化と精神性を体現した人物画
菫(すみれ)は土地の特徴に基づいた人物像を自身の感覚で作り上げ、主に岩絵具とアクリル絵具を画材とし絵画表現を行っている。
菫は古いものを慈しむ。時代の波は捉えられないほどの速さで巡っては消えていく。その儚い時流の中で、人々が本当に大切にしたかったものや守りたかったものが形やあるいは精神性となり、古いものとしてその土地に語り継がれていると。
郷土愛や民族の誇りは共通しているが、民族衣装、建築、宗教、美術、音楽、食、娯楽などの文化はそれぞれが全く別の発展を遂げてきた。その違いこそが個々を確立するアイデンティティであり、菫は多様性を尊重する思想がある現代だからこそ、時代の流れの中で薄れていった古き良きものを再度想起し、さまざまな違いの美しさを大切にしたいと考えている。
伝統衣装・装飾・その土地にゆかりのある自然物を絵に取り入れた象徴的な女性像は、その土地を生きてきた人々の精神性の具現化であると同時に、寺社や教会の神様・仏様や守護聖人のようにその地域の人々を優しく見守る温かい存在である。
また、自然由来の画材である岩絵具や箔や貝、メタリックな絵具などを多く使って描くことにより、角度を変えると画材の粒子きらめいたり色が変化するような表現が行われている。それは太陽光を反射する水面や、月光のもとの雪原、ゆらめく木漏れ日のような癒しを感じる故郷の自然風景への憧憬があるからである。それと同時に自然物を素材とした、今も尚眩く輝くオーラをまとった古き良き工芸品のような懐かしさを感じる絵画表現を追求している。
A physical representation of the culture and spirituality of the land
Sumire creates a portrait based on the characteristics of the land with her own sense, and mainly uses mineral pigments and acrylic paints as painting materials.
Sumire cherishes the old things. The waves of the times go around and disappear at an uncaptured speed. In that ephemeral trend, Sumire thinks that what people really wanted to cherish and protect became a form or spirituality, and was handed down to the land as an old things.
What is even more interesting is the cultural differences of each land based on the above. Although they share the same folk love and national pride, cultures such as folk costumes, architecture, religion, art, music, food, and entertainment have all developed complete differently. The difference is the identity that establishes the individual. Because Sumire has an idea of ​​respecting diversity, she express with recollecting the good old things that have faded in the flow of the times and cherish the beauty of various differences.
The symbolic female image that incorporates traditional costumes, decorations, and natural objects related to the land into the painting embodies the spirituality of the people who have lived in the land, and at the same time, the Gods and Buddhas of temples and shrines. In addition, by drawing with a lot of mineral pigments such as mineral pigments, foils, shells, and metallic paints, the particles of the painting materials are shimmering and the color changes when the angle is changed. Sumire has a longing for the natural scenery of my hometown, where she can feel the healing of the water surface that reflects sunlight, the snowy fields under the moonlight, and the shimmering sunlight through the trees. At the same time, she pursues an expression with nostalgic like a good old craft with a dazzling and shining aura, made from natural objects.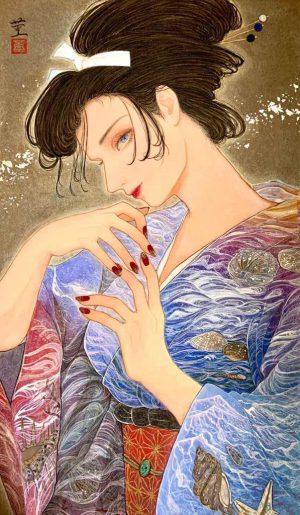 略 歴
北海道出身 武蔵野美術大学造形学部卒業
個展 展示歴

2019年12月 「Nostalgic Room」(ギャラリープティシャンブル・東京)
2021年10月「Area まちかどの幻」(GALLERY ART POINT・東京)
グループ展 展示歴

2016~2018年  グループ展多数参加
2019年  4月 小原画展(ギャラリープティシャンブル・東京)      10月 連鎖方程式をひもといて(ぎゃらりぃあと・大阪)
2020年  8月 WAVE展(GALLERY ART POINT・東京)
     10月 千歳に刻む象徴(ぎゃらりぃあと・大阪)
2021年  7月 熱い水色と小休止(ギャルリージュイエ・東京)
       道東イラストプロジェクト展(釧路フィッシャーマンズマーフMOO観光交流コーナー・北海道)
       11月 喫茶TEAVRIL Collections#1 (Tea room Orange pekoe・東京)
Biography
Born in Hokkaido Prefecture
Graduated from Musashino Art University
Solo Exhibition

2019 「Nostalgic Room」(Gallery Petit Chambre・Tokyo)
2021「Area まちかどの幻」(GALLERY ART POINT・Tokyo)
Groupe Exhibition

2016~2018 Participate in many Group exhibition
2019 小原画展(Gallery Petit Chambre・Tokyo)
    連鎖方程式をひもといて(GALLERY Ato・Osaka)
2020 WAVE展(GALLERY ART POINT・Tokyo )
    千歳に刻む象徴(GALLERY Ato・Osaka)
2021 熱い水色と小休止(Galerie juillet・Tokyo)
   道東イラストプロジェクト展(Kushiro Fisherman's Wharf・ Hokkaido)
   喫茶TEAVRIL Collections#1 (Tea room Orange pekoe・Tokyo))
     
作品ご購入ご希望の方は以下、ご連絡いただきますようお願いします。
また、実際に作品をご覧になりたい方は、作品により画廊にてご覧いただくこともできます。 ご希望の際は事前に御連絡ください。
問い合わせ先 (担当:吉村 義彦)
Mail : yy.artpoint★gmail.com(★は@に置き換えてください)
Tel : 03-6228-6839
Please contact us if you are interested in purchasing artworks.
In the case that you'd like to see actual artworks at the gallery, please contact us in advance.
Contact : Yoshihiko Yoshimura
Mail : yy.artpoint★gmail.com(Please change ★ to @)
Tel : 03-6228-6839