官野 良太

Ryota
Kanno
「光の彫刻」あるいは「現象の絵画」を作り出す
窓に差し込む朝日に爽やかさを感じたり、湖面の静けさに神秘性を覚えたりするのは、自然に対する人の本能的な感覚であろう。他方、気が遠くなるような手作業を見て感動するのもまた、人の感覚である。
官野の制作は自然現象を彫刻の要素に加えて、その融合とコントラストを追求している。自然現象を解体し再構築するその作業は、人が記憶を起こすときに匂いや温度を関連づけて想起するように、別の感覚同士を結びつける関係に似ている。
10年以上乾漆技法で人体彫刻を制作していた官野は、コロナ禍をきっかけにしてサブジェクトを人の内面へと移行させていった。そして現在制作するものは、美しい形態の模倣ではなく、光との調和によって生み出される幻想的な彫刻である。これらの表現の本質は、物体としての存在そのものではなく、光を反射し、透過する現象とともにある。即ち、人の揺れる心を反映するような「光の彫刻」と解釈することができる。あるいは、光の屈折によって作られた構造による色彩の表現を、およそキャンバス2枚分ほどに分厚く塗られた絵の具と解釈すれば「現象による絵画」とも言えるのだろう。
作品群の文脈からは、彫刻としての物質の概念から解き放たれ、深層にある認識の美を見つめ直すための問いと答えであることが読み取れる。
Create a "sculpture of light" or a "painting of a phenomenon"
It would be a person's instinctive sense of nature to feel the freshness of the morning sun plugged into the window or to feel the mystery of the tranquility of the lake. On the other hand, it is also a human sense to be impressed by seeing the mind-boggling manual work.
Mr. Kanno's production pursues fusion and contrast by adding natural phenomena to the elements of sculpture. The task of dismantling and reconstructing natural phenomena is similar to the relationship between different sensations, as one recalls by associating odors and temperatures.
Mr. Kanno, who had been making human sculptures using the dry lacquer technique for more than 10 years, moved the subject to the inside of people in the wake of the corona wreck. And what he currently produces is not a beautiful form of imitation, but a fantastic sculpture created by harmony with light. The essence of these expressions is not the existence itself as an object, but the phenomenon of reflecting and transmitting light. That is, it can be interpreted as a "sculpture of light" that reflects the swaying heart of humans. Alternatively, if the expression of color created by the refraction of light is interpreted as a paint spread as thick as two canvases, it can be said to be a "painting by phenomenon".
From the context of works, we can read that it is a question and answer for reconsidering the beauty of cognition in the depths, freed from the concept of matter as a sculpture.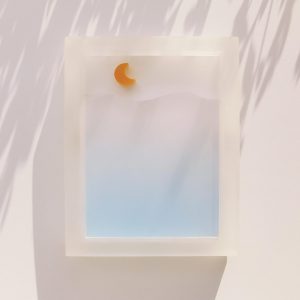 略 歴
1988年 神奈川県生まれ
2011年 多摩美術大学 美術学彫刻学科 卒業

2013年 東京藝術大学大学院 美術教育 修了



2012年 東京藝術大学 安宅賞
2013年 第87回国展彫刻部 新人賞
2014年 第88回国展彫刻部 国画賞
2021年 いい芽ふくら芽 in Tokyo 2021 オーディエンス賞
Biography
1988 Born in Kanagawa Prefecture
2011 Graduated from Tama Art University



2012 Ataka Award
2013 "87th Kokuten" New face award
2013 Completed graduate school at Tokyo University of the Arts
2014 "87th Kokuten" KOKUGA award
2021 "Iime Fkukurame in Tokyo 2021" Audience Award
作品ご購入ご希望の方は以下、ご連絡いただきますようお願いします。
また、実際に作品をご覧になりたい方は、作品により画廊にてご覧いただくこともできます。 ご希望の際は事前に御連絡ください。
問い合わせ先 (担当:吉村 義彦)
Mail : yy.artpoint★gmail.com(★は@に置き換えてください)
Tel : 03-6228-6839
Please contact us if you are interested in purchasing artworks.
In the case that you'd like to see actual artworks at the gallery, please contact us in advance.
Contact : Yoshihiko Yoshimura
Mail : yy.artpoint★gmail.com(Please change ★ to @)
Tel : 03-6228-6839